Highlights:
CoinMarketCap has launched an Interest Rate Showcase section
The interest rate section will show the rate provided by DeFi
applications for several cryptocurrencies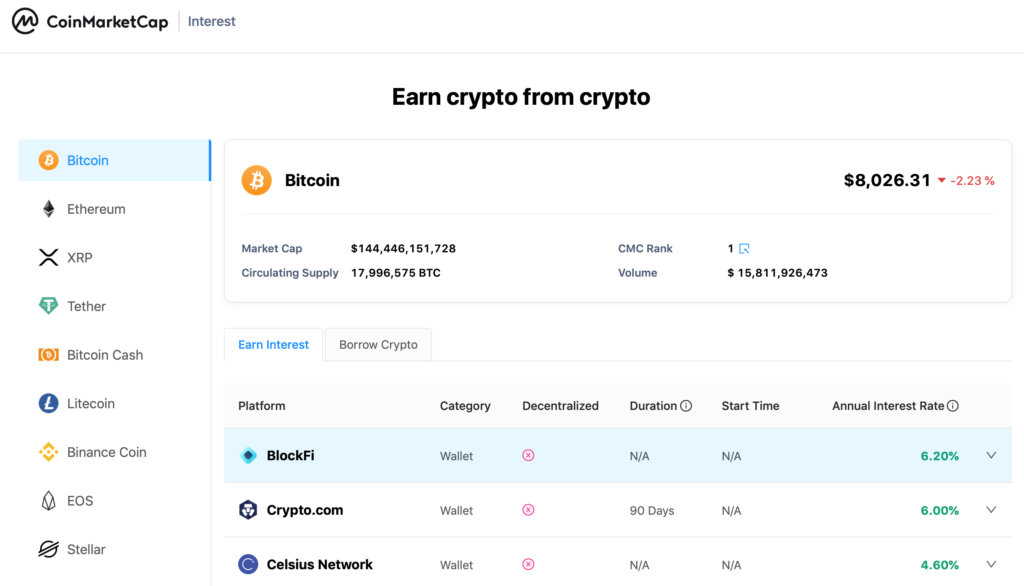 CoinMarketCap provides
financial metrics and graphs for all cryptocurrencies, and is accessible
through coinmarketcap.com, with an iOS and Android applications
available on the respective app stores. It is the most sought after platform
for accessing information and resources about cryptocurrencies.
Recently, as industry
runner, CoinMarketCap announced to TheBlock about the release of its latest feature.
Dubbed
"Interest by CoinMarketCap," the page has launched with
33 cryptocurrencies and stablecoins. It covers information from major lending
platforms, including BlockFi, Celsius Network, and Binance, among others. Users
can find annualized interest rates, deposit terms such as minimum duration
before realizing returns, and other information about these platforms.
The cryptocurrency
lending sector is currently valued at nearly $5 billion, according to crypto credit
assessment startup Graychain. And Celsius and Genesis have the highest volume
with 65% of loan originations, per Graychain.
"The number of loans originated grew faster than new
addresses and the total origination amount. That means that people are making
more small loans, rather than borrowing millions at a time. This suggests
adoption (on the public platforms) by more average consumers, rather than
institutional borrowers," explained Cohen, an analyst at
Graychain.
To
date, only Loanscan.io was involved in the past of
providing information about the interest rate process. CoinMarketCap has also
joined them in providing resources and information, and it is expected that
other crypto information platforms will follow.
The post CoinMarketCap Launches Interest Rate Showcase appeared first on Cryptoverze.