Mandala Exchange is a revolutionary platform that allows you to trade with confidence using its world-class platform that boasts compliance, security, and liquidity.
It's a regulated global cryptocurrency exchange, backed by Binance's top-notch security, and offers one of the world's largest liquidity pools. You can trade hundreds of digital assets at the Mandala platform.
The exchange is fairly new in the crypto world, launching last December 2020. However, it's quietly making some noise in the exchange space. As a brand-new entrant in the blockchain scene, it isn't easy to stand out. That isn't the case for Mandala.
Since it's partnership launch with Binance Cloud several months ago, Mandala is quickly becoming the hottest crypto trading platform. With shared Binance liquidity, security and 900+ trading pairs, it also offers its native $MDX token which can be locked for trading fees as low as .05%.
With a massive Q2 slated, Mandala is expected to roll out all sorts of new features including a completed integration with bot trader Hummingbot.io, Fiat on/off ramp integration with Moonpay, futures & margin trading and an updated IOS/Android App. It's no wonder the word about Mandala is spreading, and fast. If that wasn't enough Mandala just rolled out a total novel concept, previously unknown in the crypto space – #TraderAppreciationMonth.
Mandala Is Changing The Game
While Mandala Exchange aims to disrupt the market with its cutting-edge platform and groundbreaking Binance Cloud partnership, it strives to ensure that every trader gets the most out of their experience. Getting new traders in digital asset exchange is not only what the platform is after.
"The lack of appreciation exchanges have for their traders who spend tens, if not hundreds of thousands of dollars a year with them is disturbing. Major transparency, communication and overall sentiment deficiencies run rampant in the exchange space and that is something Mandala aims to disrupt." says the Head of Growth for Mandala Exchange, James Parmelee.
Mandala Exchange has seen incredible growth since its initial launch in December of 2020, boasting a 1,200% increase in their native exchange token $MDX in tandem with exponential user growth. The team is taking action to show appreciation for their dedicated community and continued success.
Enter Trader Appreciation Month. While it's rare for many exchanges to give back to their traders, Mandala strives for it to be the norm. They believe a platform should be user-friendly, transparent and secure but also strive to give back to their users who spend a ton of money to utilize their services.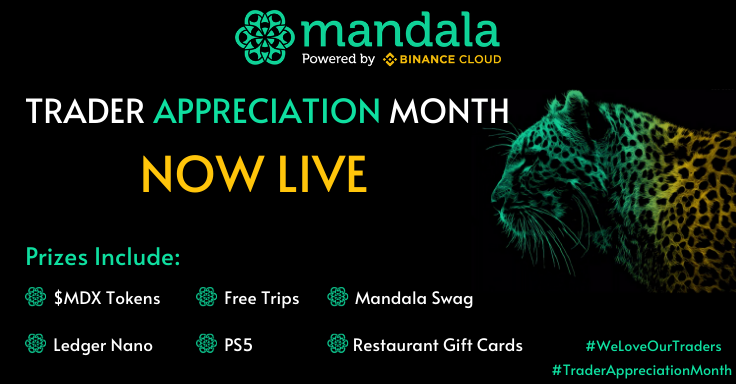 It will be the first time a crypto exchange will host an event of this magnitude and purpose; not even the top cryptocurrency platforms have done this for their traders before. With daily trading competitions and giveaways, prizes include $MDX tokens, Nano Ledgers, free trips, and so far the talk of the town has been the coveted, $MDX pillow case.
Watch out for other cool prizes like mining credits to Mandala swag items, restaurant vouchers, more vacation giveaways and even a PS5. An enhanced trading platform with a dedicated user experience and tons of rewards and prizes to win is a trader's haven.
To Sum It All Up
Aiming to make day-to-day trading as fun and full of rewards and prizes as possible, #TraderAppreciationMonth sure is a refreshing approach to customer acquisition, and retention.